Investigators are offering a quarter million dollars for anyone with information on a girl who has gone missing shortly after her mother was found dead in San Francisco.
The 9-year-old girl, Arianna Fitts, disappeared in 2016 when she was only 2. Her mother, Nicole "Nikki" Fitts was murdered shortly before she went missing.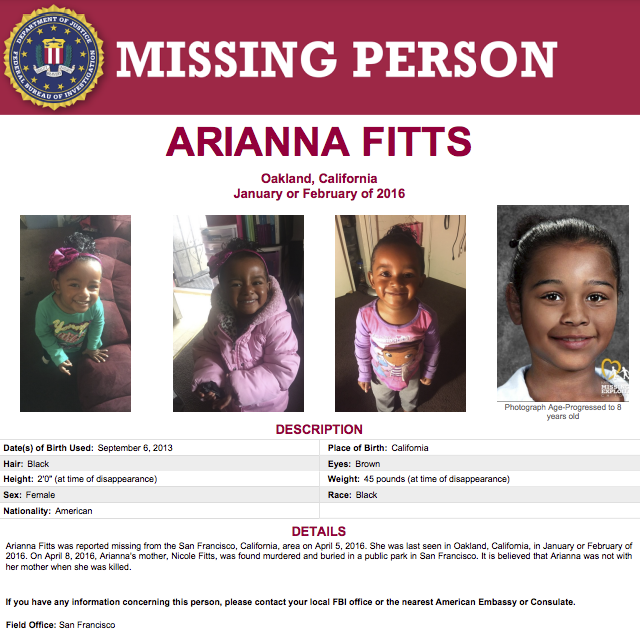 An age progression image of Fitts was created and released by National Center for Missing & Exploited Children (NCMEC), which hopes the image will help authorities find her.
"Investigators and NCMEC believe Arianna could still be alive and they're asking the public to pay attention to her age progression image," officials told KTLA.
Detectives further revealed that the FBI is now involved in the case, which has been "extended nationwide and believe some witnesses have relocated to areas throughout California and Nevada," the KTLA report says.
Nicole Fitts was a single mother who hired a babysitter to care for her daughter while she worked overnight shifts, her family disclosed. They added that she was working overnights for several months and was doing so temporarily until she got back on her feet.
"On April 1, Nikki told a friend she planned to meet Arianna's babysitter. That was the last time she was heard from," KTLA reported, adding that "on April 8, Nikki was found murdered in a public park in San Francisco. She was buried in a shallow grave."
FBI investigators say the mother's death and Ariana's disappearance are linked, although they "do not believe Arianna was with her mother when she was killed."
"We're asking everyone, no matter where you are or how busy you may be, to just take a brief moment to look closely at this image," Angeline Hartmann, Director of Communications at the National Center for Missing & Exploited Children, said during a press conference. "You may be the key to finding Arianna and not even know it."
Arianna has been described as a Black female with brown eyes and black hair. At the time she disappeared, she was 2 feet tall and weighed 45 pounds.
Authorities request that anyone with information call San Francisco Police at 415-575-4444 or NCMEC at 1-800-843-5678.