Halle Bailey of Chloe X Halle hopped online to defend her sister Chloe Bailey's honor after former Destiny's Child manager, Mathew Knowles, made a low-brow remark about the "Grown-ish" actress.
During an appearance on "Leah's Lemonade" earlier this week, radio personality Leah A. Henry informed Knowles that a lot of fans online constantly compare Chloe Bailey to a younger Beyonce.
"Do you see the comparison? Like the same thing that you saw in young Beyoncé, do you see that in Chloe Bailey?" she asked.
Knowles was less than graceful in his response:
"Are you telling me someone is idiot enough to compare her to Beyoncé talent wise? It's a yes or no. Are there people saying her talent is equal to Beyonce? They're an idiot, period," he said. "That's actually insulting to Beyoncé. If you wanted to call out Barbara Streishand or some people like that…like come on, man."
Chloe and sister Halle signed to Beyonce's Parkwood label.
But any fans of Chloe x Halle know that the sisters always have each other back, and after Halle caught wind of Knowles rude remarks, she let it be know that the multi-talented duo is not to be played with:
She tweeted, "how amazing is it that @ChloeBailey is already an icon..just popped in to say that .." She continued, "i ride for my sister till the enddd okayyyy"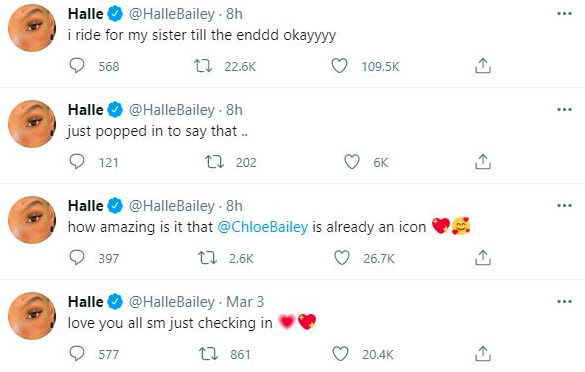 Twitter also joined in with the public dragging of Bey's pops. And while we thank him for his contribution to the music industry (he was the driving force behind Destiny's Child) — we think this industry veteran needs to rethink the way that he speaks on young, aspiring Black artists in the future.