Shine My Crown Read by Alexa
Chairwoman of the Congressional Black Caucus, Joyce Beatty, was arrested on Thursday on Capitol Hill for demonstrating for voting rights.
Democrats have taken bold action to prevent Republicans from passing restrictive voting rights legislation across the country.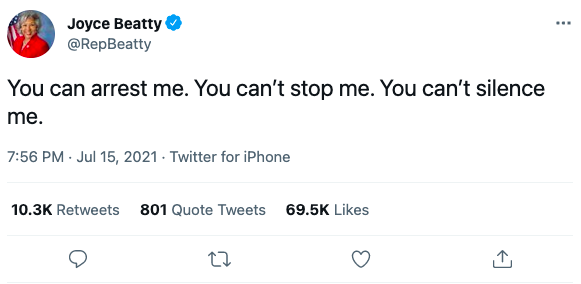 Beatty was protesting the stalling of the John Lewis Voting Rights Act and the For the People Act in Congress aimed at expanding access to voting by restoring a provision of the 1965 Voting Rights Act removed by the Supreme Court. The House is expected to vote on it in the fall.
Even after her arrest, Beatty remained defiant.
"You can arrest me. You can't stop me. You can't silence me," she tweeted.
Nine people were arrested in total during the demonstration.
"I stand in solidarity with Black women and allies across the country in defense of our constitutional right to vote," Beatty said following her arrest per The New York Times.. "We have come too far and fought too hard to see everything systematically dismantled and restricted by those who wish to silence us."
The Capitol Hill Police released the following statement after arresting the brave representative.
"This afternoon, nine people were arrested for demonstrating in a prohibited area on Capitol Grounds. At approximately 3:30pm, the United States Capitol Police responded to the Atrium in the Hart Senate Office Building for reports of illegal demonstration activity," the statement reads. "After officers arrived on the scene, they warned the demonstrators three times to stop. Those who refused were arrested for D.C. Code §22-1307. Two males and seven females were transported to USCP Headquarters for processing."
Legislation requires 60 votes to advance in the Senate. Democrats currently hold a 50-seat majority, but only one Republican, Senator Lisa Murkowski, supports the bill. It would be unlikely other Republicans would support the vote, meaning it would not meet the required threshold.