Brigham Young University has issued an apology after a fan made disparaging and racist comments directed towards Duke volleyball team players during a match between the two schools on Friday.
Rachel Richardson's godmother – whose goddaughter is the only Black starter on Duke's team – tweeted that the racial slurs were targeted towards Richardson.
"My Goddaughter is the only black starter for Dukes volleyball team. While playing yesterday, she was called a n***er every time she served."
The post continued, "She was threatened by a white male that told her to watch her back going to the team bus. A police officer had to be put by their bench."
Following the tweet, that has since been restricted from general public viewing, Brigham Young issued a statement condemning the fan's actions.
"All of God's children deserve love and respect, and BYU Athletics is completely committed to leading out in abandoning attitudes and actions of prejudice of any kind and rooting out racism."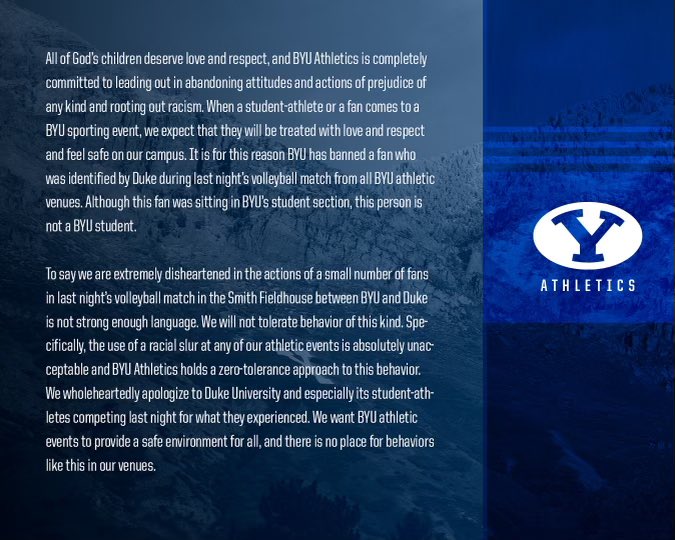 The statement continued: "When a student-athlete or a fan comes to a BYU sporting event, we expect that they will be treated with love and respect and feel safe on our campus. It is for this reason BYU has banned a fan who was identified by Duke during last night's volleyball match from all BYU athletic venues. We wholeheartedly apologize to Duke University and especially its student-athletes competing last night for what they experienced."
Richardson's father spoke with TV personality, Roland Martin, who said that the volleyball starter was supposed to meet with Brigham Young's athletic director and volleyball head coach, but the head coach, Heather Olmstead, never showed.
He further stated that his daughter was "afraid" and called him in tears after the racist abuse. An outpouring of support ensued, including a tweet from NBA star Lebron James, who advised that Richardson "stand tall, be proud and continue to be BLACK!!! We are a brotherhood and sisterhood! We have [your] back. This is not sports."