Actress and LGBTQ+ advocate Gabrielle Union is opening up about the pressures she faced to conform to the Eurocentric standards of beauty in Hollywood.
In an interview with Yahoo News, she said that she would intentionally minimize her Blackness but hiding her upper lip.
"I mean to not make light of it, but I gambled with my upper lip. For many years I would literally smile [while hiding my lip]. Because I thought if I let my full lip be seen, then they would know I was Black. … As illogical and silly and stupid as that is, I tried to minimize my Blackness."

She continued: "I tried to constantly be shapeshifting that dual consciousness. I had multiple personalities. I was trying to constantly change who I was, depending on the room, if I thought it was gonna get me this far ahead. All the things that you do for a man, all the things that you do for Jesus, all the things that you do for whoever you think that is going to deem you worthy, deem you good enough, deem you worthy of all the opportunities in life, riches, you'll do anything. You will barter with anything. And for some of us that's children. And for me, it was my soul many times. So when I realized that common ground, it's dark. It's just very dark and disturbing."
The actress is currently on a press tour to promote her new film, The Inspection. In the movie, she plays a correction officer who is dissatisfied with her son for being gay. To gain his mother's affection, he enlists in the Marines. The film is based on actual events.
"Initially, I was like, 'I live differently. What have I ever given off to make anyone think that I could pull this off convincingly?'" she said. Union currently raises Zaya Wade with her husband Dwyane Wade. Zaya came out as transgender in 2020.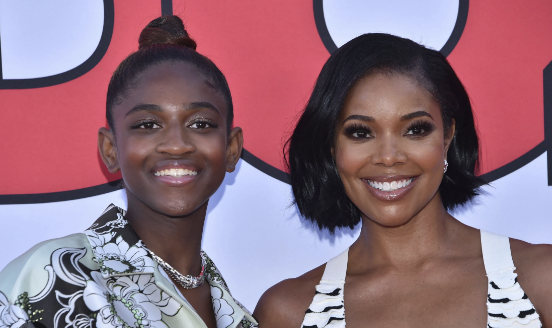 "I had to find the common ground with her. And that common ground is all of the things that we are willing to do in order to be seen, in order to move that much further ahead for a check, for a relationship, for acceptance, validation for white supremacy," she said. "What are we willing to gamble with? And for me, I didn't gamble with my children, but I've gambled with all sorts of things."
The 50-year-old began her career in teenage drama roles including She's All That, 10 Things I Hate About You and Bring It On. She went on to cement her presence in Hollywood by starring in leading roles in The Brothers, Deliver Us from Eva and Breakin' All the Rules.