Congratulations are in order for Instagram model and Youtuber Jazlyn Mychelle after it was announced that she officially wed 23-year-old Baton Rouge rapper NBA YoungBoy.
An Instagram user posted their marriage license dated January 7 listing Jazlyn Mychelle Hayes as the spouse to Kentrell Gaulden, the rapper's birth name. The certificate reads that the nuptials took place in Utah, where the Bandit star has lived since being released from prison in 2021. Several media outlets have confirmed that the license is valid.
The newlyweds have previously discussed tying the knot in the past. In November, YoungBoy revealed that he intended to marry Jazlyn in 2023.
"I'm getting married [on] January 7," the rapper said at the time. "Boy, you can't pay me $10 million to get on muthaf*ckin' OnlyFans, ni*ga. You crazy."
He also alluded to something life-changing about to happen in his life during an Instagram Live Saturday.
"I'm happier than a motherfucker. I've been waiting on this my whole life."
Jazlyn also took to social media to post video of fresh white flowers. She titled the video: "wedding prep."
"THE FUTURE MS. GAULDEN. SAID YES TO THE DRESS," a banner reads on another picture she posted.
YoungBoy sealed the deal with a 30-carat diamond ring from Shyne Jewelers, a Philadelphia-based jewelry store.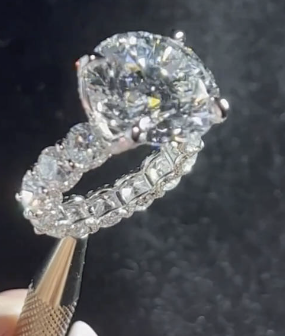 The lovebirds share two children: a daughter named Alice, born in 2021, and a son born last year.
On Instagram, Jazlyn goes by "The Dumbest. She/her. You're loved. Not impersonating. Ma' I got a family. NBA Jazzy."
YoungBoy, who also goes by Never Broke Again, has garnered a cult following for his independent mixtapes, which have featured songs landing him on Billboard charts. But his career has been plagued by a string of controversy and legal issues, including robbery, attempted murder, weapons, assault, kidnapping, battery and drug charges.
Congratulations to the newlyweds on their union!