Shine My Crown Read by Alexa
The Kaufman County Sheriff's Office says it has opened an internal investigation following a disturbingly inappropriate arrest video.
In the video, a deputy is seen lying across a teenage girl with his legs wrapped around her — face to face.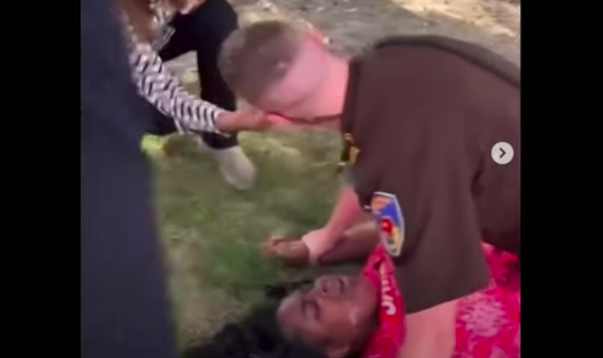 The video was shared on Facebook by a woman who says she is the teen's sister. She says the young woman, identified as Nekia Trigg, being pinned to the ground is 18-years-old and that she was walking home when somebody called police claiming she was trying to jump in front of cars.
Martin's body camera footage shows him arriving and tracking Trigg down.
"I'm just here to make sure you're OK," Martin said. "I'm OK," Trigg responds.
Trigg continues walking and says she wants to go home. "We got a call saying you were jumping out in front of cars, and I can't let you go walking off," Martin said.
Trigg responds by saying, "No, I wasn't." Martin then threatens Trigg with handcuffs if she continues to pull away from him. The bodycam falls to the ground at one point and Martin is then filmed on top of the teenager. Trigg's mother, Antanique Ray, seen wearing a neon vest, questions why the officer is restraining her daughter in such a way. She then tries to touch her daughter. He then claims Ray strikes him.
The police department claims the deputy used a technique taught by the department to control her without obstructing her breathing. Her family disputes that and says she was struggling to breathe.
"It's 102° out here… I can't breathe.. I cannot breathe," the teen says in the video.
After the video went viral, the Forney Police Department said it's now receiving an inrush of calls concerning the incident.
"The Kaufman County Sheriff's Office remains committed to transparency and cooperation with our community. Any complaint against this department is taken with the seriousness it deserves and will be followed with a complete and thorough investigation."
Trigg was taken to a mental health facility for evaluation. The deputy is on administrative leave until the investigation has been completed.