"I'm trying to really build something," Megan the Stallion told Forbes during an interview for her feature cover story. It looks like she is on the right path in her quest to build after the story has made her the first Black woman to grace the publication's 30 Under 30 cover.
Megan raked in an estimated $13 million this year and continues to make cake from ticket sales, royalties, endorsements and features, among others.
"I can't slow down right now," she told Forbes. "I'll take a break when I'm dead. When I start sitting, I feel like I'm not doing enough or I'm giving somebody else the opportunity to pass me."
This isn't the first time the Sweetest Pie star made the list. Megan first appeared on the 30 Under 30 list in 2019 and then again in 2020. Her endorsements deals with mega brands like Cheetos, Nike, Revlon, Cash App and Popeyes were part of what made her a standout candidate to appear on the magazine's cover.
Last year, Megan told ESSENCE that a part of her success is her authenticity.
"I cannot fake it," she said. "If I'm not naturally into it, I don't want to sell it."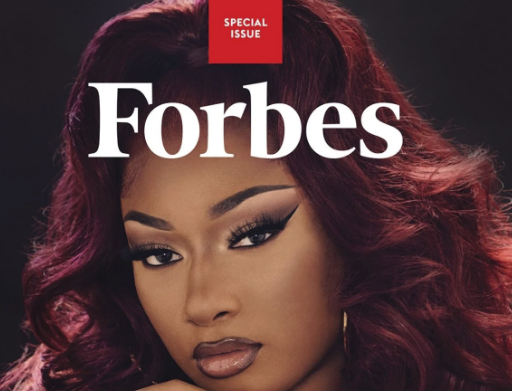 News of her making the illustrious magazine cover comes on the heels of a pending trial between her and Canadian rapper Tory Lanez over a 2020 shooting in which she was injured.
New details emerged about the almost fatal night in Los Angeles when Tory allegedly shot her outside a Hollywood Hills home.
In a trial, which began Tuesday, prosecutors say both Megan and Tory were headed to a club after visiting a pool party at Kylie Jenner's house.
It was then that the Savage rapper, born Megan Jovon Ruth Pete, said that the Say It rapper, born Daystar Shemuel Shua Peterson, disrespected her. She demanded to be let out of the vehicle before he shot at her five times.
Lanez, 30, has denied all charges. 
Detectives found a trail of blood at the scene of the shooting and a gun that was still "warm to the touch."
Minutes after the shooting, a friend received a text from Megan stating: "Help… Tory shot meg," according to testimony. Shortly after, Lanez "profusely apologized for his actions" and said he was "just too drunk," Megan's attorney told jurors.
Prosecutors further claim that Lanez told Megan to "dance" while he shot at her.
Meanwhile, Lanez's attorney claims that the case is "about jealousy" and said he would prove that Megan's accusations were not true. The defense team said that Megan initially told doctors her injured feet had been cut on broken glass.
Reports indicate that Megan didn't immediately reveal that she was shot because she did not want Lanez to get in trouble. But healthcare professionals soon found several bullet fragments in her feet and some still remain, she says.
"Tory shot me. You shot me and you got your publicist and your people… lying… Stop lying," Megan said on an Instagram Live shortly after the alleged shooting.
The trial is ongoing.