An outpouring of acknowledgment is spilling over for Black women, who many say are responsible for WNBA star Brittney Griner's freedom.
Advocacy groups including Win With Black Women, the Southern Black Girls and Women's Consortium and the Black Women's Leadership Collective were responsible for organizing rallies, distributing petitions and spearheading campaigns to demand that she be released.
According to an NBC News report, their hard work has finally been recognized.
Last week, President Biden announced that Griner would be returning home after serving 10 months in a Russian jail. In the unprecedented announcement, he said that she has been exchanged for Russian arms dealer Viktor Bout, who has been held in an American prison for 12 years.
"I was moved to tears," LaTosha Brown with Southern Black Girls and Women's Consortium told NBC News. "I felt relieved; I felt hopeful. I always felt we would bring her home, I just didn't know when. I believe Black women were instrumental in multiple ways." 
Griner was arrested and convicted of carrying hashish oil in her luggage while she was visiting Moscow to play for a basketball team there. After months of diplomatic talks between the U.S. and Russian officials, she was sentenced to nine years in a Russian penal colony in November.
Brown recalled that she had no choice but to take action when she discovered that Griner was detained in the Eastern European country. She not only supported issues around Black women in the past and she has colleagues who knew Cherelle Griner, wife to the basketball star.
"Many of us felt like if it didn't get media attention, her case would just fade away. She could possibly live her life to rot in jail," Brown said. 
Family and loved ones of WNBA star Brittney Griner had grown worried about the whereabouts of the basketball player after it was announced that she has been transferred to a penal colony over seven hours away from Russia's capital. Her exact location was unknown at the time, although it had been revealed that the penal colony was in Yavas, in Russia's western region.
Last month, the U.S. State Department confirmed to the media that they were in touch with her legal team. Her lawyers confirmed during talks that she had been transferred to a penal colony.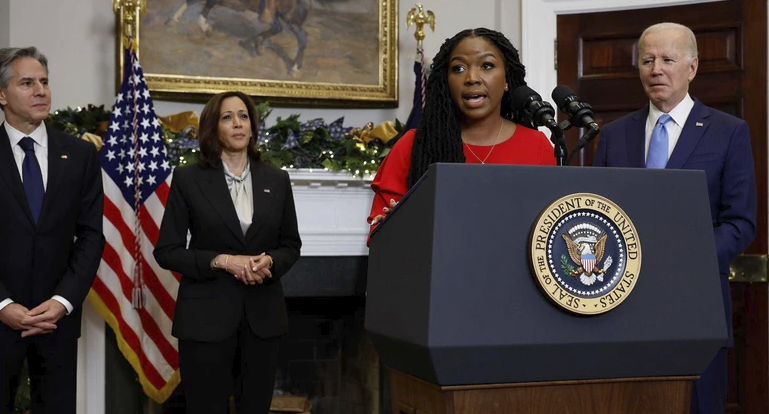 "It was painful for so many, particularly Black women, to see another Black woman be in those harsh conditions, to just see the pain in her face," Jotaka Eaddy, founder of Win With Black Women, told The Hill. "It was hard to watch. It's hard to hear about the inhumane conditions that she was forced to be in."
In a statement, the executive director of SisterSong, Monica Simpson, said Griner's release symbolized that their hard work to bring attention to the matter was not in vain.
"We are overjoyed that Brittney Griner is headed home after nine months away from her family. This is a huge moment, and we must acknowledge and celebrate it," Simpson said. "Black, queer, trans, women and many communities that are pushed to the margins by systems rooted in white supremacy and patriarchy are constantly navigating violence, unjust criminalization and threats to our human rights. Brittney's treatment is just one example among too many of this reality … We honor the Black women like Brittney's wife Cherelle, who fought tirelessly to bring her back. Welcome home, Brittney, we missed you."