Megan Thee Stallion is calling out rapper DaBaby for promoting his recently released collaboration with Tory Lanez.
Meg and DaBaby have collaborated several times together. Given that Lanez is accused of shooting Meg in both feet last summer… some fans were left confused a few months back when it was revealed that Lanez and the "BOP" rapper had a single coming.
Thee Stallion was quick to update her fans before they bombarded DaBaby with hate:
"That sh*t was old and not cleared," she tweeted.
Megan recently released a single and video for her DaBaby-assisted single. "Cry Baby," a track from her debut album, "Good News." He also appeared on "Cash Sh*t" from Meg's 2019 "Fever" mixtape while Megan featured on DaBaby's "Nasty" his "Blame It on Baby" album.
But DaBaby now says he wants to be left out of the issues between Lanez and Meg.
"Baby got enough problems of his own my n*gga," he tweeted. "ion got nooooo reason to inherit the next MF problems.Man gesturing not ok Y'all chasing a story y'all ain't gone get. I'm out n*ggas bidness while still successfully doing business."
Meg called him out for playing both sides.
"Support me in private and publicly do something different…these industry men are very strange. This situation ain't no damn "beef" and I really wish people would stop down playing it like it's some internet sh*t for likes and retweets," the Houston rapper tweeted.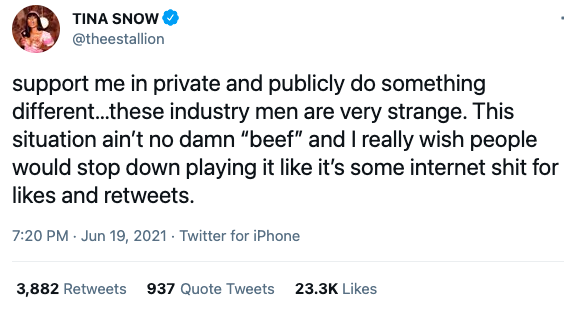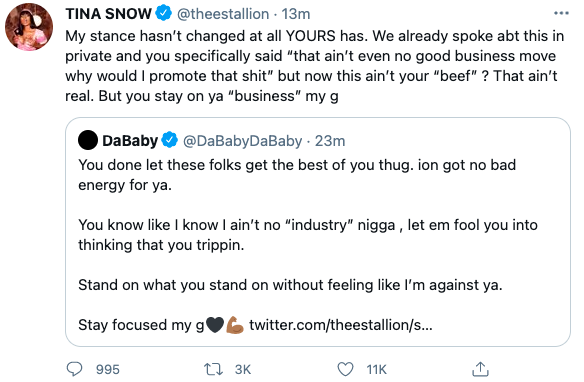 DaBaby was quick to respond:
"You done let these folks get the best of you thug. ion got no bad energy for ya. You know like I know I ain't no "industry" n*gga , let em fool you into thinking that you trippin. Stand on what you stand on without feeling like I'm against ya," he continued. "Stay focused my g."
It always hurts when a friend turns their back on you, but Megan was sure to let him and everybody else know that he's broken his word and has not supported her the way that he had promised.
"My stance hasn't changed at all YOURS has. We already spoke abt this in private and you specifically said "that ain't even no good business move why would I promote that sh*t" but now this ain't your "beef"? That ain't real. But you stay on ya "business" my g."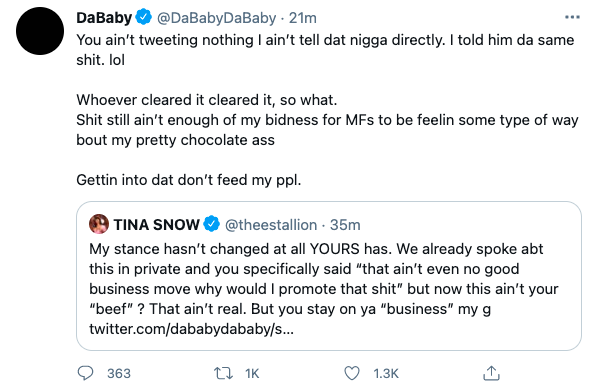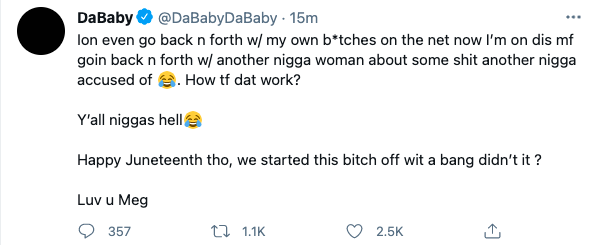 Tory Lanez has strongly denied allegations that he shot Megan.