On October 22, Jada Simelton left her family home in southeast Houston. Her family has not seen or heard from her since.
She is 15 years old.
Now investigators are looking into whether Jada left with an older man she may have been talking to on the internet. Her family believes she was being groomed by at least one met she met online.
"Not a single word, not a single message, not a single hint that came from her," Marcus Simelton told ABC13. "As a parent, all you can do is think about the worst things."
Simelton told the news outlet that she is strict and does not allow Jada to use a personal phone or computer. However, a Skype app on a school computer appeared to be used by the teen to communicate with the man. The message had been deleted, but investigators managed to recover the conversation.
In the messages, the man was making plans with Jada to pick her up.
"The last messages were from him telling her to delete their messages. 'This is how you do it, and I'm going to meet you at the gas station, and we'll leave from there,'" Marcus added.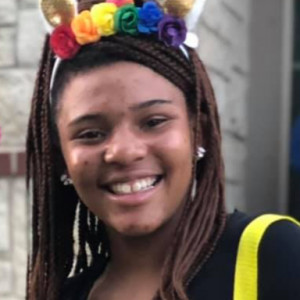 Jada is described as a Black female with black hair, brown eyes and light brown skin. She was wearing her hair in long braids at the time. She may have been wearing pink tie-dye leggings and a pink shirt when she went missing. Jada is also believed to have been wearing multi-colored Crocs.
Jada also has a gap between her teeth and moderate acne visible on face, according to Black and Missing.
Grooming is when a person engages in predatory conduct to prepare a child or young person for sexual activity at a later time. Ninety-nine percent of online grooming cases happen within the 13–17 age group. The majority of targeted children are girls.
Jada's family has hired a private investigator as the police continue their investigation. Her father believes she is with the man in either Killeen or San Antonio in central Texas.
Police are asking anyone with any information regarding Jada's whereabouts to contact Houston Police's Missing Persons Unit at 713-713-5223 or Texas EquuSearch at 281-309-9500.