A recent photo of Kelly Rowland and Kim Kardashian taking a selfie at the gym has left some fans scratching their heads about what some say is a very peculiar friendship.
Rowland and Kardashian, who share the same trainer named Senada Greca, took the mirror selfie, leading the latter to post it on her Instagram Story, writing "Nothing like working out w friends to keep you motivated [kiss emoji] @kellyrowland."
The Skims founder and the former Destiny's Child star are both seen wearing black crop tops with matching black leggings. Both are wearing fingerless gloves (usually worn when weight training) and are barefooted with socks on.
The Motivation singer is seen flaunting her six-pack abs while the Keeping Up With The Kardashians TV personality shows off her slim waist.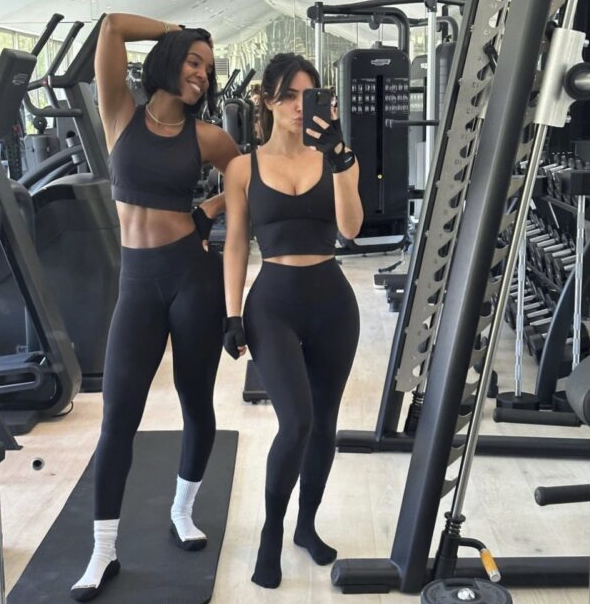 Several bloggers took a screenshot of the picture and uploaded it to their respective Instagram accounts, leaving commenters to chime in about their thoughts about the two being seen together.
"This such a random link up," one user wrote.
"How tf they know each other," wrote another.
"Y'all saying their link up is weird, but they've been friends for years."
"Bey come get our sis! Now!!"
While some may think their friendship is odd, the two have been good friends for quite some time.
During a 2022 red carpet interview, Rowland spoke about Kardashian, who was receiving a Giving Tree Award during the Baby2Baby Gala last November.
"I'm so excited to see darling Kim be honored," Rowland told Entertainment Tonight. "I feel like she does so much beautiful work and she's such a great human being. I mean the exterior is one thing of her being this ooh Kim Kardashian, but her heart is a really great heart." 
The mother of two also added that the reality star was a great mother and overall "great human."
"They don't care about the look, you know, of giving like I've heard about different things that she's done that people don't get to see or hear about and that's the stuff to me that counts the most," Rowland added. "So umm, it's deserving for her to be honored tonight."