Critically-acclaimed journalist Isha Sesay, 46, who was the face of CNN International for 13 years, has revealed intimate details into having her first child, which she says she is having alone. In an OpEd piece written for Today, the Okay Media CEO said it was her decision to have a child with the help of a sperm donor and several IVF procedures.
"If you'd told the 16-year-old me that at 46, I'd be divorced, single and having a baby on my own — by choice! — I'd have shuddered and firmly said 'no!,'" Sesay wrote.
For the first time, the journalist and NGO executive shared private accounts of her brief marriage that led to no children. Another recent "subpar relationship with a man who took about 12 hours to reply to all my texts" forced her to consider conceiving alone.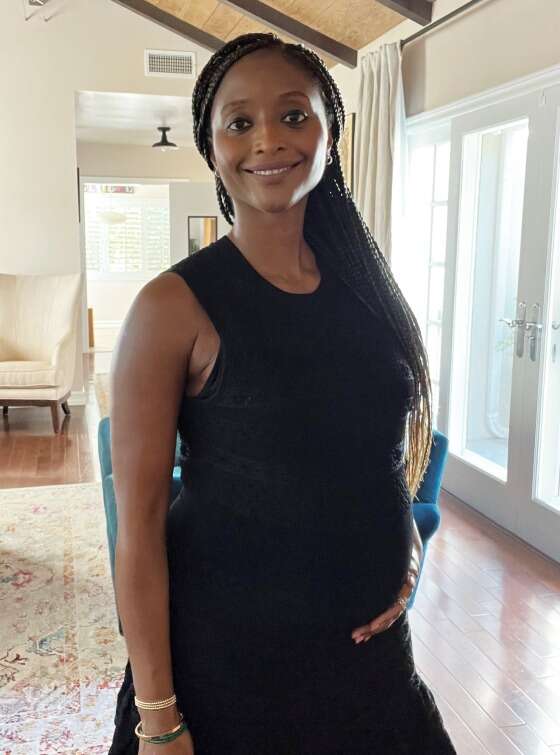 "It was then, in the aftermath of our inevitable breakup, that it hit me: Not having a child would be the greatest regret of my life. And with my biological clock ticking down, if I was waiting for the right man to come along before I did it, well, I might just find myself out of time."
Sesay also shares her account of going through IVF. After two failed attempts, she wondered if she would be able to conceive, but after the third try, she successfully became pregnant.
"I approached my third embryo transfer with relatively low expectations. In the two weeks that followed the procedure, my mind raced uncontrollably and I battled the urge to take an early pregnancy test," she recalled. "The day before I was scheduled to return to the clinic, I finally caved in and bought a home test because I couldn't bear a repeat of the hours-long wait before the clinic called with the results. The next morning I got up long before the sun was up, anxiously headed to my bathroom and opened the box. The minutes ticked by and I cycled through a myriad of emotions. When the word 'pregnant' flashed up on the tiny screen, I screamed and fell to my knees before bursting into tears."
The process wasn't easy, she admitted. In addition to numerous blood tests, pelvic exams, injections, she suffered extreme nausea from medication and had an unexpected fibroid surgery.
But the hardest part of it all, she confessed, was finding the right sperm donor.
"The decision asked of me to confront questions surrounding the importance of the race, ethnicity, religion and educational background of my child's father. Essentially, it forced me to re-examine my own upbringing, values and worldview. But harder still was the task of trying to tease clues from the questionnaires that would tell me whether a donor was a good man? Did he have a moral compass? Was he truly kind, empathetic, open-minded? Ultimately, I made a decision — entirely on my own — and I have no regrets."
Read her story on Today here.