Shine My Crown Read by Alexa
Chicago Mayor Lori Lightfoot clapped back at Press Secretary Kayleigh McEnany, who, on Thursday, referred to her as "the derelict mayor of Chicago."
McEnany was defending Trump's comments earlier this week that whites are far more likely to be killed by the police than members of the Black community — which is a lie.
"But there are other things the President has to focus on: namely, Democrat cities not controlling their streets; namely, the mayor of Chicago — people dying in her — in her — on the streets of her city every weekend. And the President sent her a letter saying, 'You must secure your city, '" McEnany said according to a White House transcript.
She later added, "I've listed for you the names of these kids who have died across this country. It is unacceptable, and under this President, he'll take action. And the derelict mayor of Chicago should step up and ask for federal help because she's doing a very poor job at securing her streets."
Time Magazine's White House correspondent Brian Bennett tweeted the disparaging remark.
Lightfoot responded by sharing a screenshot of the tweet, where she wrote alongside it, "Hey, Karen. Watch your mouth."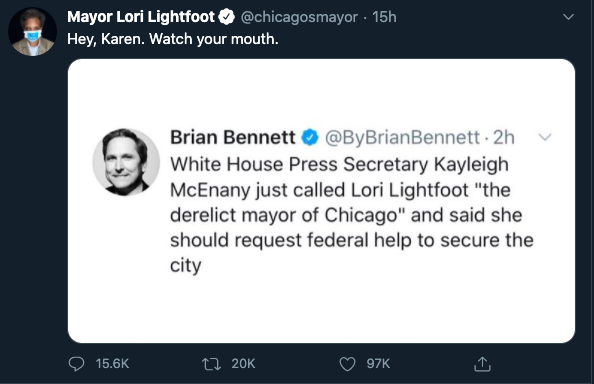 Trumpers are up in arms over Lightfoot's response, calling her usage of the term "Karen" a slur — but this is the least of their problems.
McEnany also backed Trump's demands to get schoolkids back in the classrooms this Fall, despite the growing number of COVID-19 cases across the country.
"The president has said unmistakably that he wants schools to open. And when he says open, he means open in full, kids been able to attend each and every day at their school," she said during a news conference.
"The science should not stand in the way of this," she said, adding, it is "perfectly safe" to fully reopen all classrooms.