This week, Doja Cat posted a stunning picture of her in a blue, two-piece bikini.
After the pics went viral, people hit the star's comments section to accuse her of editing the snaps.
Doja clapped back, saying she did no such thing.
"i didn't photoshop my waist line my f-cking razor bumps are out of this world that's why you can tell the face tune is obvious as f-ck down there. also leave me alone lol" she tweeted.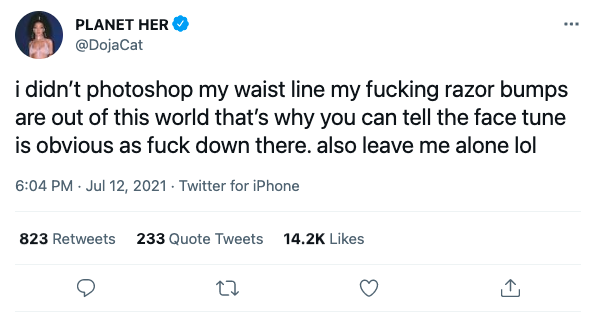 Doja could perhaps be one of the most misunderstood pop stars in the mainstream. Since the internet fell in love with her since "Mooo!" she's been in the headlines for storming the charts, landing a number one — but there's been some controversy too.
The singer/ rapper was "exposed" for entering online chatrooms with white supremacists. She denied the claims, alleging the chat snippets had been taken out of context.
Doja says she's just a regular girl who makes dope music.
"I feel like people separate the pop star from the very humane, normal internet teen goofball kind of girl," she told Billboard in April. "And I feel like they complement each other. There is no separation, in my opinion. I always looked at myself like, 'I can do it.' But I feel like people thought I was this goofy girl, and that's all I could ever really be."
She is also very aware of the pressures which come with her level of fame. She tries her best to remain grounded.
"I live for it when a pop star comes off as, like, a deity," she told the magazine. "They carry themselves as very mysterious, and you'll never know anything about them, only that they're incredibly talented and always have profound sh-t to say. I love that, and I always wanted to be like that, but I just don't really give a f–k. And I think it's important for me to not put that pressure on myself or that will eat me alive. If I can just be myself, that's probably the best thing for me."