Duchess of Sussex, Meghan Markle released the first episode of her all-new podcast entitled "Archetypes" on Tuesday. The Spotify Original – already topping streaming charts – explores gender biases and discusses issues around women empowerment.
In the inaugural episode, Markle dives deep into her childhood and shares her disappointment with an Ivory Clear Dishwashing commercial that aired when she was just 11-years-old. She vividly remembers feeling that the ad painted women in an inaccurate and sexist light.
In response, she wrote a letter to the dishwashing company, leading them to rephrase their slogan to "women to people." Her role in making the company chang their slogan showed her the power of her voice, and she has carried it with her into adulthood.
"[It was an] awakening to the millions of ways, big and small, that our society tries to box women in, to hold women back, to tell women who and what they should and can be," said Markle "I've never lost touch with that reality, and in the last few years, my desire to do something about it has grown. My 11-year-old voice has also gotten a little more confident — maybe a little louder."
"Archetypes" is an hour-long podcast that features uncensored conversations with leading women in various industries. The first episode is entitled "The Misconception of Ambition" and features her longtime friend tennis superstar, Serena Williams. Their conversation is rich in thought and captivates the daring and bold essence of both their personalities.
"If a man is ambitious, that is celebrated. But you look at a woman like yourself, who I think is incredibly ambitious, and that's a testament to who you are as a person," Markle told Williams.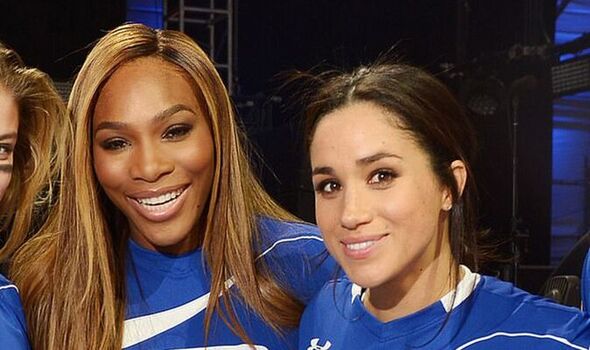 Williams agreed and adding her own sentiments stating that "if a man is ambitious, am I bringing down society by saying a woman is something different than ambitious? Or what do I think of women that are ambitious? Often women are put in these different boxes when we are ambitious, when we have goals or when we reach our goals it's a negative connotation on how we reached them."
They also discuss what life is like for them as mothers in the public eye. They both agree that it isn't easy, but understand that using their voice is a way to erase negative stereotypes that sometimes come with being a Black woman and mother.
"I think it's important that when you're raising a child you don't let them take on your fears," Williams, the mother of one daughter said. "Fearlessness is super important. I think as you grow with the experience that you get, you think of it as a wound — if you burn yourself, obviously you don't touch the fire again. So you're learning behaviors that make you stop and that give you this healthy fear — because there is a healthy fear, you know, it's not a bad thing. It's just a precaution that we need."
Other guests on the podcast will include Dr. Laura Kray, a professor at the University of California, Berkeley's Haas School of Business and the faculty director of the university's Center for Equity, Gender, and Leadership. In Episode Two, Markle and Dr. Fray discuss how her research on ambitious women in society leads to preconceived notions that must be changed.
"We see that the identical behavior is rated more negatively when it is a woman than when it is a man. An ambitious woman is deemed power hungry, manipulative and not trusted, whereas an ambitious man is seen as someone to emulate," Kray said. "He's seen as a role model, a captain of his industry. We see people using these different terms for the identical behavior. So the only explanation is, it boils down to antipathy towards women." Catch the first episode of Archetypes only on Spotify now.