Shine My Crown Read by Alexa
Zimbabwean novelist and activist Tsitsi Dangarembga has won the prestigious PEN Pinter Prize 2021.
The PEN Pinter Prize is given to a writer who shows a "fierce intellectual determination… to define the real truth of our lives and our societies."
Dangarembga nabbed the award for documenting "the development of Zimbabwe from a British colony to an autocratic and troubled free state" through her writing career spanning three decades.
"I am grateful that my casting – in the words of Harold Pinter – an 'unflinching, unswerving gaze' upon my country and its society has resonated with many people across the globe and this year with the jury of the PEN Pinter prize. I believe that the positive reception of literary works like mine helps to prove that we can unite around that which is positively human," she said in a statement per The Guardian.
She will be delivering her keynote address at a ceremony hosted by British Library and English PEN on October 11.
Last July, the Booker Prize nominee made headlines for her arrest during anti-corruption protests. She was charged with incitement to commit violence and breaching anti-coronavirus health regulations.
Zimbabwe authorities banned the protests called by opposition politician Jacob Ngarivhume, head of the Transform Zimbabwe party, against alleged state corruption and the country's collapsing economy.
The anti-corruption trial is currently being challenged in the High Court.
Dangarembga sat down for an interview with Al Jazeera in November, where she was asked whether she felt betrayed by the country's current president,
"The betrayal, in my opinion, began before independence. Violent intimidation has been the strategy of the ruling party (ZANU-PF) to keep the population tame, in order to achieve their power objectives since before independence," she shared.
"There were so many conflicts in the armed struggle going right back to pre-independence and the path was already laid down, the path of anti-intellectualism, where we do not think things through in light of the context of where we are and in light of all the knowledge that is available in the 20th century. We were very dogmatic. We are African and our tradition is what we are following. It is just ridiculous because you are not operating in the 16th century, so what are you harking back to? So that was definitely laid down in the armed struggle."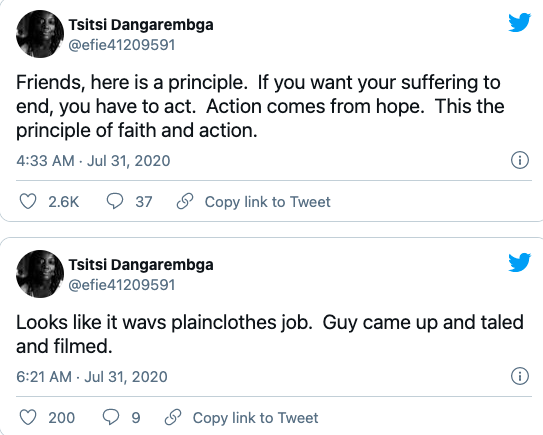 Her 2018 novel, "The Mournable Body," was hailed by The New York Times Book Review as a "masterpiece," and is the third part of a trilogy "Nervous Conditions" was released in 1988 and its sequel, titled "The Book of Not," came out in 2006.