Kelly Working It Out In Style. Photo: Fabletics.com
New Year, new attire!
Were you wondering what that countdown was on Kelly Rowland's IG for the last few days? As a fan of Ms. Kelly, I know I was curious. Kelly Rowland has dropped a limited-edition line with activewear company Fabletics.
It features  leggings, shirts, tank tops, workout clothing, athleisure sets and more–and it's right on time for those fitness resolutions you've made.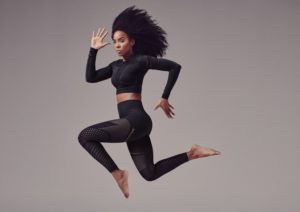 "Kelly Rowland represents the epitome of powerful femininity, which is why we are so proud to be able to collaborate with her!" Fabletics writes on the collection's homepage. "This capsule collection was designed to empower women to stand tall and feel strength in their everyday with pieces that are made to move and make big moves in. The whole collection represents her own brand of personal style, complete with athletic silhouettes with an edgy attitude and a touch of sexy."
Rowland joins Demi Lovato as a spokesmodel for the brand. Lovato launched her first collection of athletic wear with Fabletics in May, 2017. Actress and fitness enthusiast Kate Hudson co-founded the label in 2013.