This new year brings in new changes for Congress. After an historic midterm election for women, women of all backgrounds are newly representing the United States in many roles.
Shine My Crown loves to shine a light on everyday sheroes as well as celebrity sistas. That said, meet Shuwanza Goff. This veteran House Democratic staffer breaks a racial barrier as the first African-American woman to serve as floor director, a low-profile but hugely important position in the office of House Majority Leader Steny Hoyer (D-MD). Shuwanza Goff will help the incoming majority leader decide on the Democrats' policy agenda.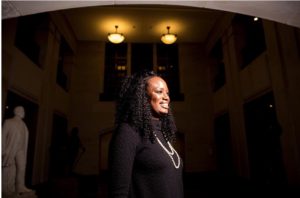 By middle school, Goff knew that she wanted to pursue a career in politics. She was more interested in government and history than math and science. That interest evolved as she got older, and she says that she "never knew in any way, shape or form that being floor director was even a job, let alone something that I would end up doing."
She graduated from the University of Tennessee with a degree in political science and got her master's degree in justice, law and society from American University. She interned on Capitol Hill and began her career in 2008 as a staff assistant in Hoyer's office.
Kudos to Ms. Goff, newly crowned and blazing a trail!