Twenty-five-year-old Omie Dale is changing the grim statistics of people in Black communities who can swim in safe and easy accessible environments. In a recent CNN feature, the London-based swim guru advocated for the need of more inclusive measures to ensure minority women and girls can have access to aquatics and wants the world to know that water is a place where women and children can feel safe, instill calm and increase confidence.
"There's so much joy that can be had once you learn to swim," she told CNN. "Once you've abandoned those fears and you can get in the water."
Her organization, Swimunity, was founded in 2019 with the aim to provide free and high quality swimming lessons for women and children. It works to empower minorities to remove cultural and economic barriers by working with local communities to ensure they receive proper education and swimming lessons, thus removing possible fears and detaching stigmas that may arise when it comes to water.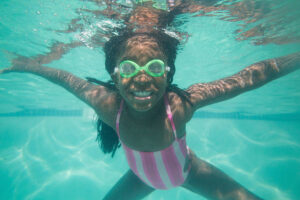 Swimunity was born out of an observation she found in predominantly Black British and Black American communities that do not have access to pools due to deep-rooted discrimination and racism. It is a problem mainly because she believes swimming is "the only sport that can save your life."
"I used to work in Kensington [in London] as a lifeguard and some of the richest people live in that borough, but also some of the poorest," she said. "There's a real class barrier in the sport of swimming."
Swimunity's programs include free swimming lessons and educational holistic programs to help women and children learn about the power of swimming as a lifesaving skill and a way of life.
"There's like a lot of people who come to swim lessons…who have undergone some form of trauma, whether that be water-related trauma or trauma related to their everyday lives," said Omie.
To learn more about Swimunity, visit them here.