Two healthcare workers are rewriting history for Muslim women in healthcare after discovering a line of hygienic hijabs to protect them in hospital settings.
Yasmin Samatar and Faraoli Adam served on the frontlines during the onset of Covid-19 when they found it difficult to find personal protective equipment (PPE) that would keep them safe from being exposed to the virus.
The business partners first met at St. Catherine's University in St. Paul where they both studied respiratory therapy. They would soon be on the road helping hospitals that were overwhelmed by patients needing care during the pandemic. They noted that the facilities had sterile protective equipment but did not offer head coverings that met hijabi standards.
 "They even had a beard cover, and we thought, really? A beard cover, but no hijab?" Adam told Twin Cities. "COVID is deadly, and we all got familiar with the term PPE. But Muslim health care workers were left out because nobody thought about it."
Samatar and Adam both found that other Muslim healthcare workers were facing similar issues, so they raised $10,000 and founded Mawadda, an FDA-compliant, disposable isolation hijab that meets both hospital safety and hijabi standards to provide culturally-conscious personal protective equipment for Muslim women.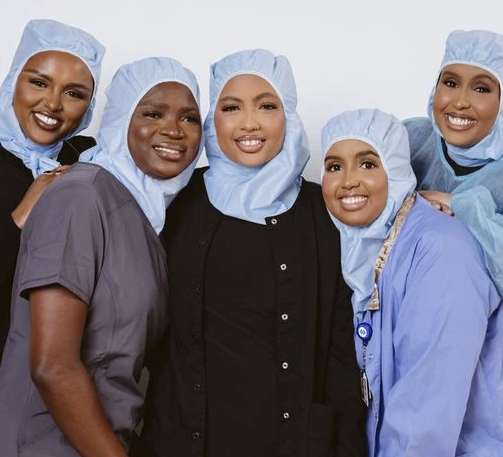 Their products have been tested with Muslim healthcare workers in various focus groups and they were able to rejigger the materials to ensure it was safe as well as comfortable.
"We had to find the right material so it's not too hot or thick, but also not too sheer and meets hijabi modesty standards," Samatar said.
They agreed to design two looks: the Zanub, "a pull-over with an adjustable elastic band around the face," and the Ikram, "a one-size-fits-all wrap."
Rammy Mohamed of Ramadahn Designs designed the hijabs and they have since gained international traction, with orders coming from France, China and the U.K.
"It's just been crazy. It was like — we didn't think about how it would reach this many people," Adam said. "Everybody had the same story."
The co-founders are currently the only full-time employees at their company for now, and Samatar still works night shifts at a local hospital, but they say they are incredibly thankful to their community for their support.
"We have some family members and close friends in case we need extra work from here to there," Adam said. "They're always stepping in."
"It's created by us, for us. But having culturally appropriate protection won't just affect us, it will affect everyone under the care of a Muslim woman: patients, families and communities," Samatar said.
Learn more and shop the Mawadda collection by visiting here.