Award-winning actress Lauren London was one of many close to the late Nipsey Hussle, who received a posthumous star on the Hollywood Walk of Fame Monday.
Hussle's partner, with whom she shares a son, took the stage to speak on his life and legacy, and thanked fans for their continued support three years after his tragic passing in South Los Angeles.
"I want to first start by saying Happy Birthday Hussle, and to the Hollywood Chamber of Commerce: thank you for acknowledging a visionary," London said. "I think I speak for the entire city of L.A. when I say that we've always known Hussle was destined for greatness. This moment only amplifies that for us."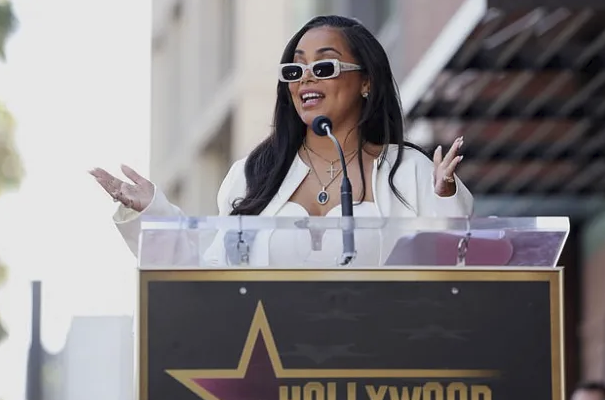 The Hollywood Chamber of Commerce hosted a ceremony celebrating the famed California rapper on what would have been his 37th birthday. Hussle, who is of Eritrean descent, joins the ranks of Michael B. Jordan, Regina King, Ashanti, DJ Khaled and Tracee Ellis Ross, who are also members of the 2022 Hollywood Walk of Fame class.
Hussle, born Ermias Joseph Asghedom, first rose to fame after the release of the well-received mixtapes, Bullets Ain't Got No Name, The Marathon, The Marathon Continues, and Crenshaw. His 2018 debut studio album, Victory Lap, received critical acclaim and was nominated for the Best Rap Album at the 61st Grammy Awards. Shortly after his death in March 2019, he won two posthumous Grammy Awards the following year.
In 2017, he co-founded The Marathon Clothing flagship store, which has now become a landmark site in Los Angeles. "This was three/four years in the making," Hussle told WorldStarHipHop days before the store's grand opening. "We went through a lot of stages with this and everybody put their blood, sweat and tears into this."
"Nip would have been honored by this moment," said London during the Hollywood Walk of Fame ceremony. "I think he would want everyone to remember that you can't get to what's possible unless you commit to moving forward. That doesn't mean forgetting where you come from, but requires acknowledging the reality you were born into and the power you have to change that reality for the better."