Janet Hubert, the original "Aunt Viv," took to Twitter to call out "The cosby Show" actress Phylicia Rashad for posting a tweet in support of Bill Cosby.
"Phylicia what are you thinking!!! I don't know you but to say this was terribly wrong. EVERYONE knew what he was doing back then. How could you NOT!" Hubert tweeted. "Get your umbrella sista here comes the shit shower. I am outraged that he has been released. Yes he is an old ass guilty man!"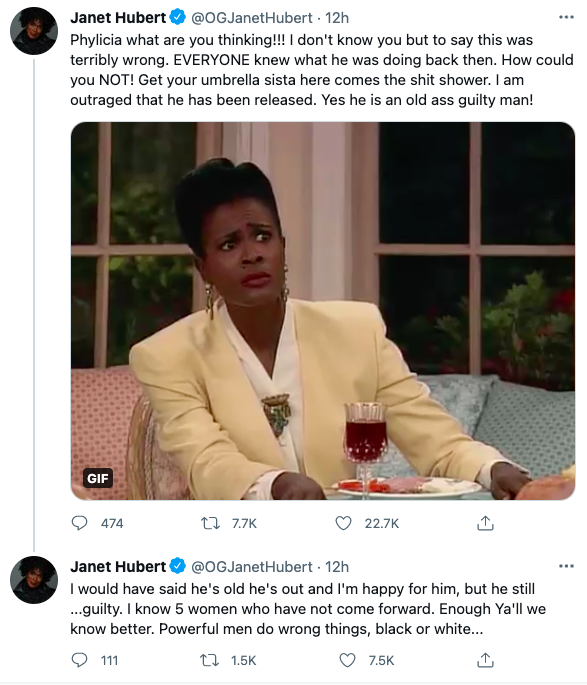 On Wednesday, Cosby was released from prison after having his conviction overturned. The comedian was released because of an agreement with a previous prosecutor that prevented him from being criminally charged in the case.
A technicality — not an exoneration.
After the news broke, Rashad tweeted: "FINALLY!!!! A terrible wrong is being righted- a miscarriage of justice is corrected!" with an image of Cosby smiling.
The post sparked immediate backlash online—many accusing the college professor of being insensitive towards the alleged victims of her longtime friend.
Shortly after, Rashad issued another statement, backtracking from her original statement.
"I fully support survivors of sexual assault coming forward. My post was in no way intended to be insensitive to their truth. Personally, I know from friends and family that such abuse has lifelong residual effects. My heartfelt wish is for healing," she wrote.
Hubert was all of us.
"I would have said he's old he's out and I'm happy for him, but he still …guilty. I know 5 women who have not come forward. Enough Ya'll we know better. Powerful men do wrong things, black or white…" Hubert concluded.
Since his release, Cosby has issued a statement maintaining his innocence.
"I have never changed my stance nor my story. I have always maintained my innocence," his statement reads. "Thank you to all my fans, supporters and friends who stood by me through this ordeal. Special thanks to the Pennsylvania Supreme Court for upholding the rule of law.