It was less than a month ago when news broke that the mother to NBA star Tristan Thompson passed away suddenly from a heart attack. The former Chicago Bulls athlete has remained mostly silent since, but has recently opened up to grieve the loss of his mother.
In a series of photos he shared on social media, the free agent shared an emotional tribute to his late mother, Andrea Thompson.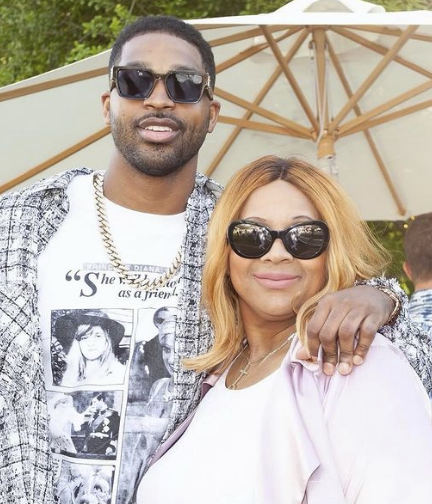 "It has been one month since you've been gone. I'm in disbelief. Im in the deepest part of sorrow & grief
My soul is empty as I come to terms that my biggest supporter/superhero is gone," he wrote in the heartfelt post. "I cannot thank you enough for always being a woman of faith, being one of Gods warriors, fighting back with whatever the world threw our way. You constantly protected us through prayer. My hero you fought all the battles you needed to and it was time for you to go home."
He further reminisced about how faithful she was to God and mentioned that she would continuously pray and fast for her loved ones.

"Mommy I know you're watching down on me; I wanna say thank you for picking me as your son. You dedicated ur life to ur boys & the church. Prayed & fasted for family/friends because you know how evil this world is. Mommy, all the sacrifices you did for ur sons will never go unnoticed or without appreciation. You were an amazing mommy, role model, best friend & the strongest woman I know."
TMZ first reported about her passing in her Toronto home in early January. She was rushed to a local hospital but succumbed to a heart attack after doctors attempted to resuscitate her without success.
Reports indicate that she died unexpectedly just days before Tristan and the mother to his two children, Khloé Kardashian landed in Canada after visiting Los Angeles. Reports say Khloé maintained a good relationship with Ms. Thompson even after she and Tristan went their separate ways. 
It was reported at the time that both Kris Jenner and Kim Kardashian were expected to attend Ms. Thompson's private funeral, according to Entertainment Tonight.
"Khloé was very close to Tristan's mother," an Insider told the show. "And as with any partner, friend, etcetera, the family will be first to support them, especially in this very difficult time."
In a 2016 interview for NBA.com, he said he communicated with his mother often.
"I talk to my mom every day – ask how the kids are doing, ask how she's doing, too. Everyone knows that my mom, she's very dedicated in taking care of her sons – especially Amari. But at the same time, you need to make sure that she's ok."
And on Mother's Day in 2020, he shared a heartfelt post about his mother's presence in his life.
"Happy Mother's Day Mommy! One day isn't enough to praise and lift you high. Everyday is your day. Thank you for all the sacrifices you made for me and my brothers. I love you and I'm soo lucky to have been chosen as your son. Not all superheroes wear capes," he wrote.