Valentine's Day is a few weeks away, and flowers are at the top of the list when it comes to gifts being dolled out on the day.
And why wouldn't they be? Aside from being beautiful, fresh flowers also boast several proven health benefits. They can help to boost your mood, help you to relax, and even help to improve your memory.
One day, while scrolling through Instagram, I came across Briauna Taylor, a Delaware native and founder of The Bloom Wagon. TBW is a "traveling florist that specializes in personalizing the florist experience by bringing the blooms directly to you."
And her creations are not only captivating but affordable.
So I had to find out more about Briauna and her Bloom Wagon.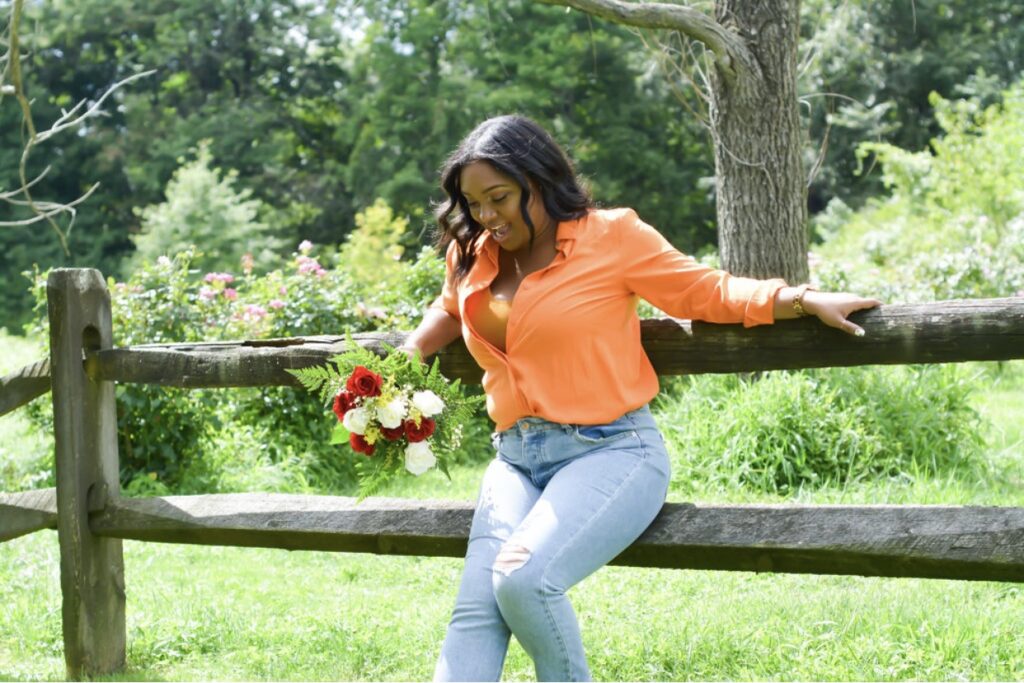 ShineMyCrown: When did you first fall in love with flowers?
Briauna Taylor: Flowers have always been a huge part of my life. When my grandparents and my great aunts and uncles moved to Delaware from Virginia, they purchased a very large piece of land. About 11 acres or so. There are four houses on that land where they all still live, and they each have a nice size piece of the compound. My grandmother allowed my dad and I to create a garden on our part of the compound when I was around four-five years old. That's when it all started. From then on, my dad would send me flowers to elementary and middle school and then eventually, I started showing interest in playing around with them myself.
SMC: Growing up and throughout your career, did you come across many Black florists?
BT: I actually never saw a Black florist growing up. I lived in a very rural part of Delaware, and the people working in florist shops were always white. I think being a Black florist is so cool because it's one of those careers that people don't often think about dabbling into. So as a Black woman, the market is wide open for me.
SMC: How did you come up with the idea for Bloom Wagon?
BT: So I went to a vocational high school with kids from all over my county, so it was far out from my house. On special holidays and my mom's birthday, I never had time to make it to the florist, so I taught myself. I would buy different bouquets, deconstruct them and arrange them the way that I wanted for my mom. My friends started asking me to be in charge of flowers for events and to arrange flowers for them, and eventually my mom told me I couldn't keep doing it for free. Ha!
SMC: How long did it take to get the business off the ground?
BT: It honestly didn't take too long. I was asked by one of my best friends from college, Evie, to speak at Delaware Valley University's Women's Summit, and one of our fellow Eastern University alumna, Khalia, was the keynote speaker. Khalia was a senior at Eastern when I was a freshman, so I knew her, but I didn't know her. Khalia is a business coach, and she and I started talking in the lobby about my idea for being a traveling florist. From that day, we have been inseparable. She was my business coach and helped me get The Bloom Wagon up and running within five months.
SMC: Did the pandemic affect your business at all?
BT: Not really! There was a period of time where I decided to be extra careful and not do as many deliveries and drop-offs because of COVID. As you can imagine, people have been finding new ways to stay connected and show their loved ones that they care even if they cannot physically see them. Flowers have been an amazing way to do that, and The Bloom Wagon has supported our customers in that way. Business has been booming in the pandemic, and I am so blessed.
SMC: Describe the perfect bunch of flowers?
BT: Oh man, the perfect bunch of flowers? Okay, I like to play around with colors and different size blooms. My favorite bouquet of flowers will always be red roses, white lilies, and sunflowers. I feel like everyone on social media loves the classic red roses and sunflowers combination, but I like to add a little extra. The red roses are sophisticated and timeless. The sunflowers are bright and loving. The white lilies are regal and eye-catching. Pair all of that with some eucalyptus and Ruscus leaves, and that is the perfect bunch of blooms for me.
SMC: Where can our readers find you on social media?
BT: You can find The Bloom Wagon on Twitter, Instagram, and Facebook!
Twitter: TheBloomWagon
Instagram: _thebloomwagon
Facebook: The Bloom Wagon
ShinemyCrown will be sharing some of The Bloom Wagon's Valentine's Day specials closer to the romantic holiday.
Stay tuned!