Rapper Blac Chyna is trending on Twitter after she seemingly outed rapper Tyga, the father of her son.
"Tyga loves Trans , me 2," Chyna tweeted alongside a kissing lips emoji. "Tell the truth @Tyga !!!!!" she wrote in a follow-up tweet.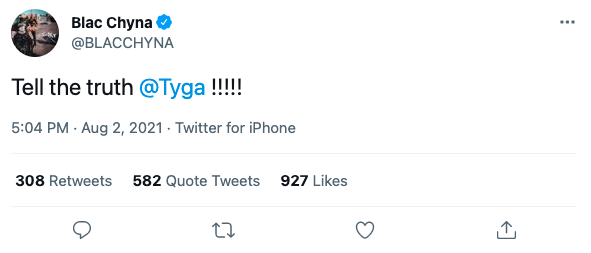 Chyna's comments have divided social media. Some found the reality television star's comments amusing, while others accused her of being "transphobic."
Tyga has not responded to Chyna's tweets. It's possible Blac Chyna could have been hacked… but social media isn't waiting around to find out.
This is not the first time Blac Chyna has been accused of being transphobic.
In June, Tokyo Toni, Blac Chyna's mother, posted a clip of her daughter's raucous. "So here y'all go… Chyna was being mad rude and acting superior AF," wrote Toni.
"She blocked the gate so no one could get out. People were just tryna ask her to leave. She kept wanting smoke with the transwomen and then told them they are not girls but boys."
"Transphobic ??????," Toni on Instagram.
If Blac Chyna is homophobic, then that apple hasn't dropped far from the tree.
In 2017, Tokyo Toni went viral for her transphobic rant against Caitlyn Jenner. The rant followed Jenner's remarks about Chyna and Rob Kardashian's relationship drama.
"Rob was stupid for doing that and he kind of apologized. I really have not had much of a relation– I've never met Blac Chyna," Jenner said on "The View."
Tokyo Toni saw red.
This motherf–ing n–ga, cause he's a man dressed up and pretending to be a woman." Tokyo insisted that Jenner did not sound feminine enough.
"All that money you got, get a vocal coach, then I'm gonna finish with your motherf–ing a–. "You gonna lie and say you don't know Blac Chyna? N–ga you was walking around switching in the park with me, you f–king f–got.
"Call me b–ch, I got some words for you ass," she finished the rant.