Credit: A Ma Maniére x Jordans 12
Streetwear brand A Ma Maniére has consistently pushed the envelope to feature the style and talents of Black women, and with its latest collaboration with the iconic Jordan Brand, it has proven once again how it is challenging the status quo in street fashion.
James Whitner, the boutique's founder, has currently released the A Ma Maniére X Air Jordan XII "White" Release, a follow-up from its widely successful 2021 release of the Raised By Women Jordan 3. This time around, his release accompanies a short film, She Is The Blueprint, a riveting discussion between the brand and Black women.
"The campaign actually does something that makes me really proud because the idea of Black as the blueprint is just the narrative we gave to our internal team and started giving them moods and ideas of what it meant," Whitner told Andscape in an interview. "But for me, it was so special because it speaks to the ecosystem our collective team is beginning to live in together, which speaks to our why and purpose for doing what we do. So it's easy for us to talk about the product piece, but when you start talking about what we're trying to get after and how we'll get after it, collectively, if our team isn't aligned on the same vision, you don't get there."
The A Ma Maniére Jordan 12 A Ma Maniére X Air Jordan XII "White" features wine-colored and white contrast with calf leather and leather material. The signature Jumpman motif, round toe, front lace-up ankle-length sneaker has a branded insole and rubber sole.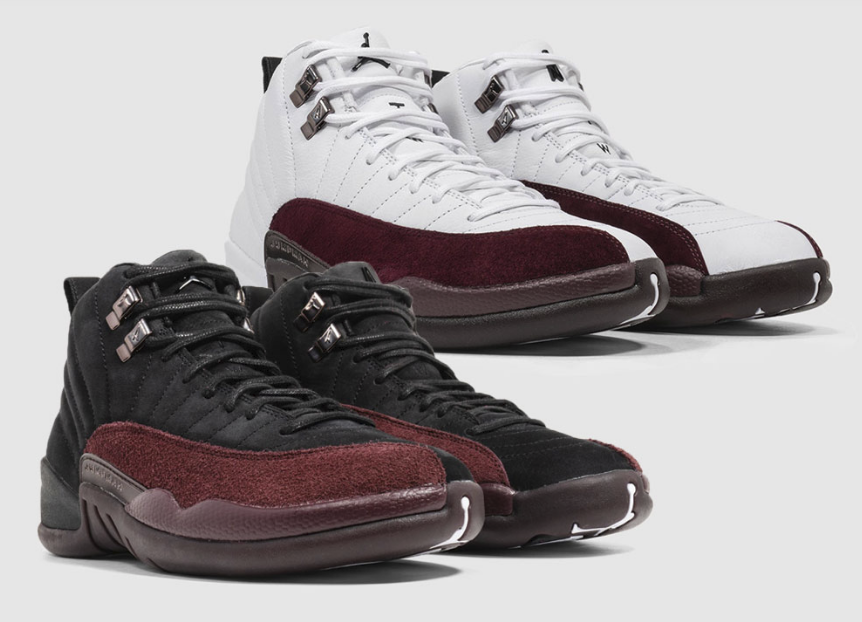 Its campaign showcases members of the WNBA's Atlanta Dream, whose team players paved the way in ousting the team's recent owner, U.S. Sen. Kelly Loeffler and highlighted WNBA player Brittney Griner, who was recently jailed in Russia before her release last December.
"There's only one type of person in the world that has it worse off than Black men and that's Black women," the Pittsburgh native said. "And I think for us it's important to create space for them to be seen and heard and be responsible about it. Black women have done the work, so we gotta make the space and allow them to lead alongside us."
In addition to his innovative new shoe collection, his parent company, The Whitaker Group, boats a portfolio including 20 retail locations, restaurants, community hubs and hotels (Social Status, APB and Prosper, to name a few). But he says his bread and butter is yet to come, adding that he hopes his brands continue to push the culture forward with impactful storytelling and exquisitely assembled products.
"We're still built in the groundswell for what will become the future in years to come. So for us, it's going to really just be about building the infrastructure so we can start to tell more stories at scale and build the foundation for us to grow meaningful things as a community," Whitner said, adding that "I'm in my 40s, so God willing, I got 60 more clips left. I'm focused on really doing the work and building infrastructure for us all to really stand on and to really have something meaningful and to be able to beat our chest and understand that there are opportunities for us as a people that don't include us needing to break the law, to be able to move us all ahead."
Shop the new colorways of the A Ma Maniére Air Jordan 12s at amamaniere.com.