Shine My Crown Read by Alexa
British clothing brand Timbuktu has deactivated its social media accounts after facing major backlash for trademarking the name of the West African Yoruba people.
The brand has been accused of appropriating the culture.
In 2015, Timbuktu, an outdoor clothing brand, filed to trademark the word "Yoruba," records from the UK's Intellectual Property Office reveals. The trademark was approved.
The company is not Black-owned.
On Sunday, CultureTree, an African cultural center in London, said that she discovered the trademark when she attempted to trademark "Yoruba Stars" abut faced issued due to Timbuktu's filing.
"I thought it was really strange that a company would be allowed to trademark the word 'Yoruba', a tribe and language of millions of people," CultureTree founder Gbemisola Isimi wrote, adding that Timbuktu had opposed her attempts to register her own phrase.
"I feel this is the height of cultural appropriation and I've informed @timbutuglobal that I intend to make this case public," she continued. "I told them I do not think Africans or the global media for that matter would take kindly to a company with roots in the North of England attempting to claim sole ownership of a birthright belonging to the people of another continent."
The Yoruba are one of the largest African ethnic groups south of the Sahara Desert.
Once word of Timbuktu's trademark went viral, Timbuktu Limited deactivated its Twitter handle and disabled comments on its Instagram page. They also sent an email stating that they would be handing the trademark over to Culture Tree for free.
The trademark should never have been applied for and should certainly never have been approved.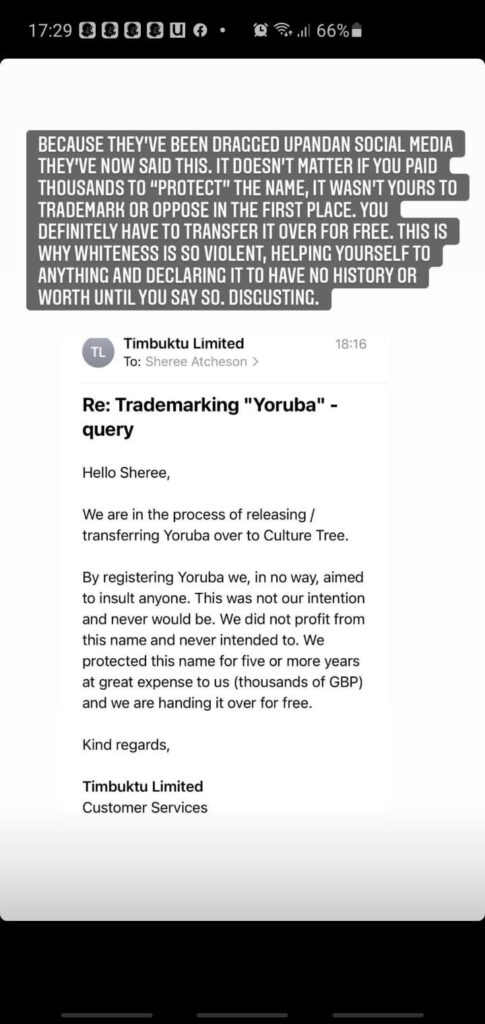 Check out a few of the reactions to the trademarking below.