Megan Thee Stallion has announced the launch of her million-dollar 'Women On Top' fund to support education, women-owned businesses, female-focused charities and organizations and more.
The fund is in partnership with Fashion Nova.
"I'm excited to collaborate with Fashion Nova Cares on the 'Women On Top' initiative and be part of giving $1 million to support women-led businesses and organisations," Megan said about the fund in a statement. "These donations are life-changing and will help women of all ages get one step closer to making their dreams a reality."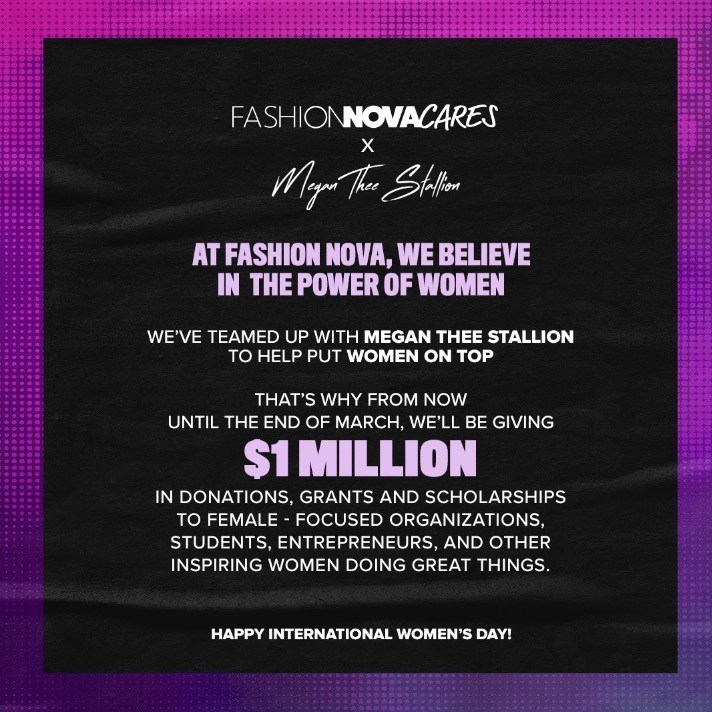 The initiative will run in conjunction with Fashion Nova's ongoing pledge to support various activism and awareness campaigns committed to fighting racial inequality.
"At Fashion Nova, women empowerment and ongoing advocacy for diversity and inclusion have always been part of our guiding principles," said Richard Saghian, Founder and CEO of Fashion Nova. "We believe the world will be a better place when all women are provided the opportunity to maximize their potential. This program was created to give women greater advantage as they pursue their passions."
For those interested in the 'Women on Top' fund, click here to apply or to nominate a loved one.
Throughout her rise to fame, Megan has always found ways to give back to the community.
In October, the Houston rapper launched a 'Don't Stop' Scholarship Fund specifically for women of color pursuing their degree. In 2019, she invited her fans to join her at Santa Monica Pier to clean the beach — raising awareness around global warming and related environmental issues.
More recently, the rapper partnered with Democratic Texas Rep. Sheila Jackson Lee and the National Association of Christian Churches and Disaster Services to help senior citizens and single moms recover from Winter Storm Uri.